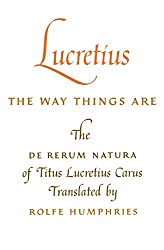 The great epic poem De Rerum Natura by Lucretius, as translated into modern English by Rolfe Humphries.
---
De Rerum Natura is an epic poem by the epicurean Roman Lucretius. It is considered one of the finest didactic poems ever written, described by Cicero as "full of inspired brilliance, but also of great artistry."
This is one of the fundamental sources on ancient Epicureanism, as it is thought to be based on "On Nature" by Epicurus himself (in 37 books! unfortunately lost to time). It is an important read for anyone interested in furthering their understanding of Epicureanism.
You can read an alternate translation by H. Munro online for free here, or buy a copy of your own.